By Ryan Wallace
In terms of fashion, often the most stunning creations evolve from simpler concepts the designer knows well. Integrating their own perspectives and passions, the pieces that come from familiar concepts aren't necessarily innovations but offer a reinvisioned view of the world the artist lives in.
Rushing through the aisles of MAGIC Market Week's POOLTRADESHOW this past February, we were overwhelmed with the creative imaginations that the designers around us had. Bringing to life labors of love, designs which they had conceived from concept to product, the designers were eager to share their creations with the thousands of buyers that walked through the doors. But amidst the thousands of designers, it takes some extraordinary ingenuity to make us look twice.
Although they have a place in all our closets, our personal bias often draws us away from the screenprint tees that fill the aisles of tradeshows or boutiques. With so much competition in the marketplace their success lies in original creativity and impeccable execution—two aspects many collections fail to acknowledge. But meandering through the aisles of POOLTRADESHOW, one collection in particular drew us in from the crowd. Resembling a colorful abstract painting, shirts on display featured an altogether unique and yet familiar organic pattern—a fingerprint.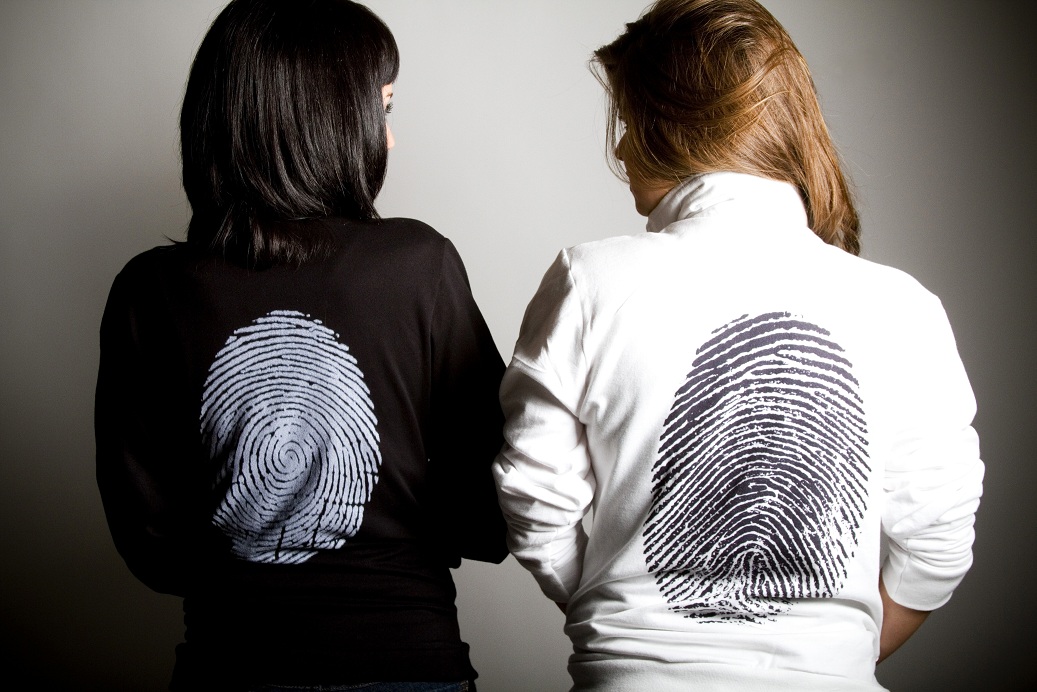 Drawing inspiration from her daytime job as a forensic specialist, designer Erika Di Palma of "My Own Fingerprint" offers clients the opportunity to create fashion that is distinctly original. "As a crime scene investigator and fingerprint examiner in Los Angeles, fingerprints have been an important component of my everyday life" Di Palma says. "In 2012, I devised a way to parlay my forensic background into a venture that puts the fun in functional—with a fashionable twist."
Finding a bit of creativity amongst the murder scenes one summer, Di Palma decided to take the beauty out of the horrific crimes scenes to invigorate the ready-to-wear fashion scene around her. "It was my profession that inspired me to create this biometric apparel" Di Palma says. "I took a trade in which I had expertise, added a slice of creativity, and now I am able to provide customers with something that is truly one-of-a-kind."
Basing her brand and her mission statement on the qualities of fingerprints themselves, "My Own Fingerprint" strives to bring products that are unique and permanent. Collaborating with vendors in Los Angeles who are able to employ unique imprinting processes for each product, they are able to curate an array of individualized apparel and accessories. And with a permanent point-of-view, "My Own Fingerprint" has chosen products that will stand the test of time. "Our apparel is comfortable to wear and will not fade, even with numerous washes over time" Di Palma says. "Our watches are resistant to water, durable against scratching, and include a warranty for extra peace of mind. It is our goal to create unique, quality pieces whose hallmark is longevity, so that they can be passed down from generation to generation."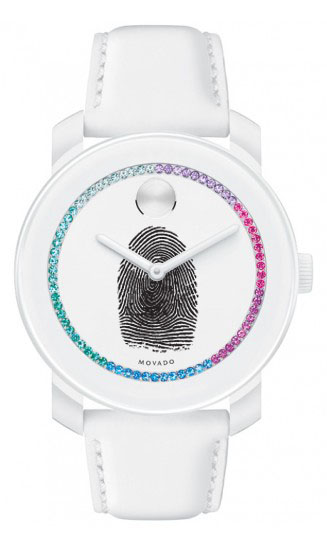 Aside from being entirely individualized, "My Own Fingerprint" is interactive. Assuming you'd like your own fingerprints on your apparel or accessories, the company provides you with your own fingerprint collection kit, so you can place your own stamp of approval onto the product. And you can rest assured that your personal information is kept completely confidential throughout the entire process. "At 'My Own Fingerprint', the safety and privacy of our customers' personal data is of paramount importance" Di Palma says. "Our policies and procedures were formulated upon the premise of maintain privacy at the highest of levels. As a result, customers can rest assured knowing that their identity will never be compromised." Di Palma spoke with us regarding the possibilities of identity-theft solely using a fingerprint, and although there may be an evolution in crime syndicates worldwide, the notion of fingerprint-theft plays to quite an extreme—bordering on absurd.
And what's more, aside from a great product and privacy practices, the company supports a great organization. "With each online or in-store generic fingerprint T-shirt sold, 'My Own Fingerprint' donates a portion of the proceeds to [the National Center for Missing & Exploited Children]" Di Palma says. "This organization is significant to me because I have experienced first-hand how it helps families who have lost or are missing a child due to horrible, unforeseen circumstances. This charity supports law enforcement, and has made a genuine difference in quickening the response time & increasing important resources needed during critical circumstances."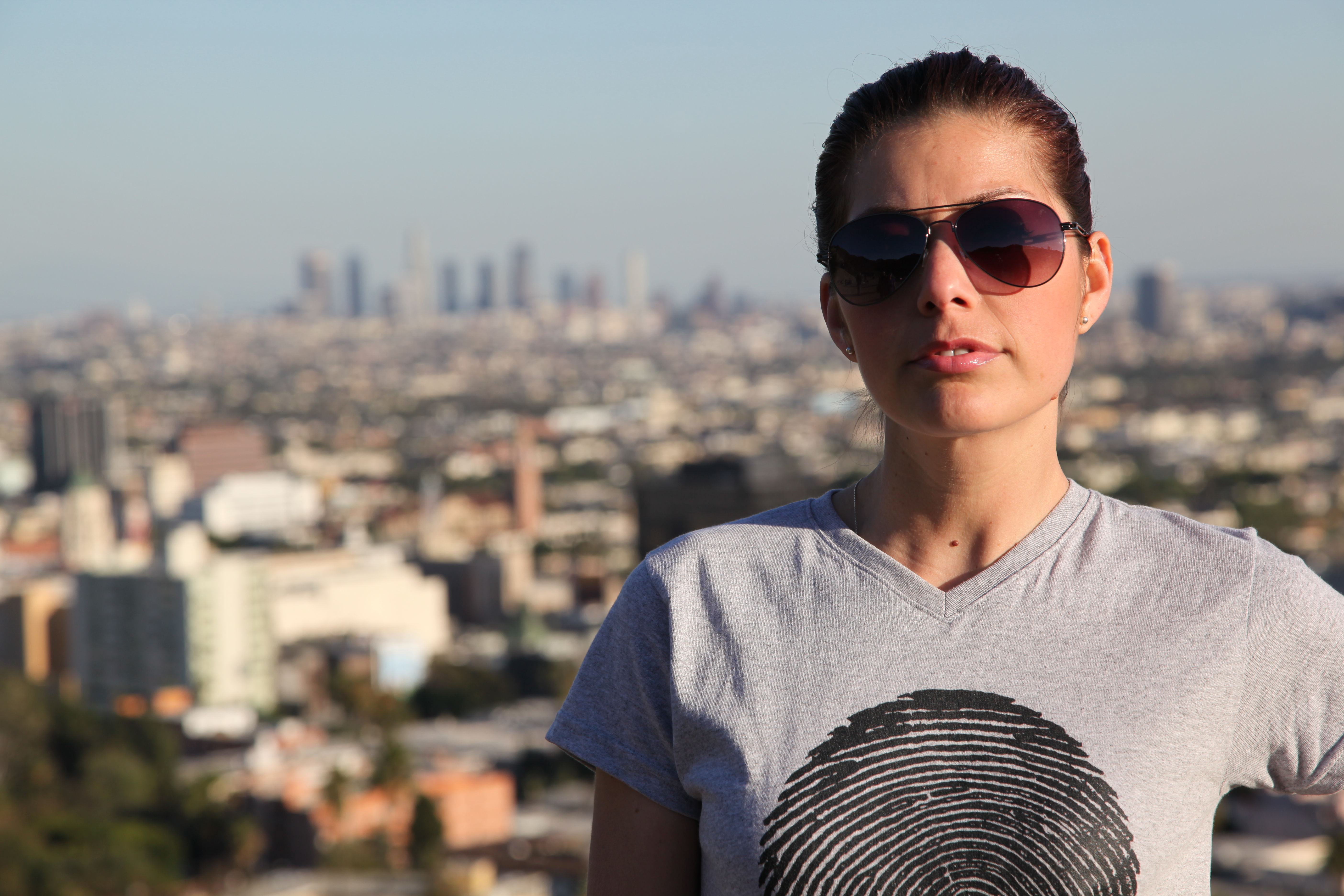 From concept to cause, "My Own Fingerprint" stands out amongst the crowd and with a knowledgeable leader at the helm, the brand will continue to grow and find its place in the industry. Bringing people together by displaying what makes each and everyone of us unique, "My Own Fingerprint" has got individuality down to a tee.