By Ryan Wallace
Ever imagined how an ant sees the world? The microscopic details in the grain of wood seen with piercing definition, and the oil on the canvas of a painting like petrified waves to traverse. Well, here's your chance. Thanks to a dynamic collaboration between mobile photography brand Olloclip and award-winning adventure photographer Chris Burkard, you can step out of the waves and into the artwork of the world's tiniest "Gallery for Ants", exhibited at the Shorebreak Hotel in Huntington Beach this Friday Aug. 1st through Sunday Aug. 3rd.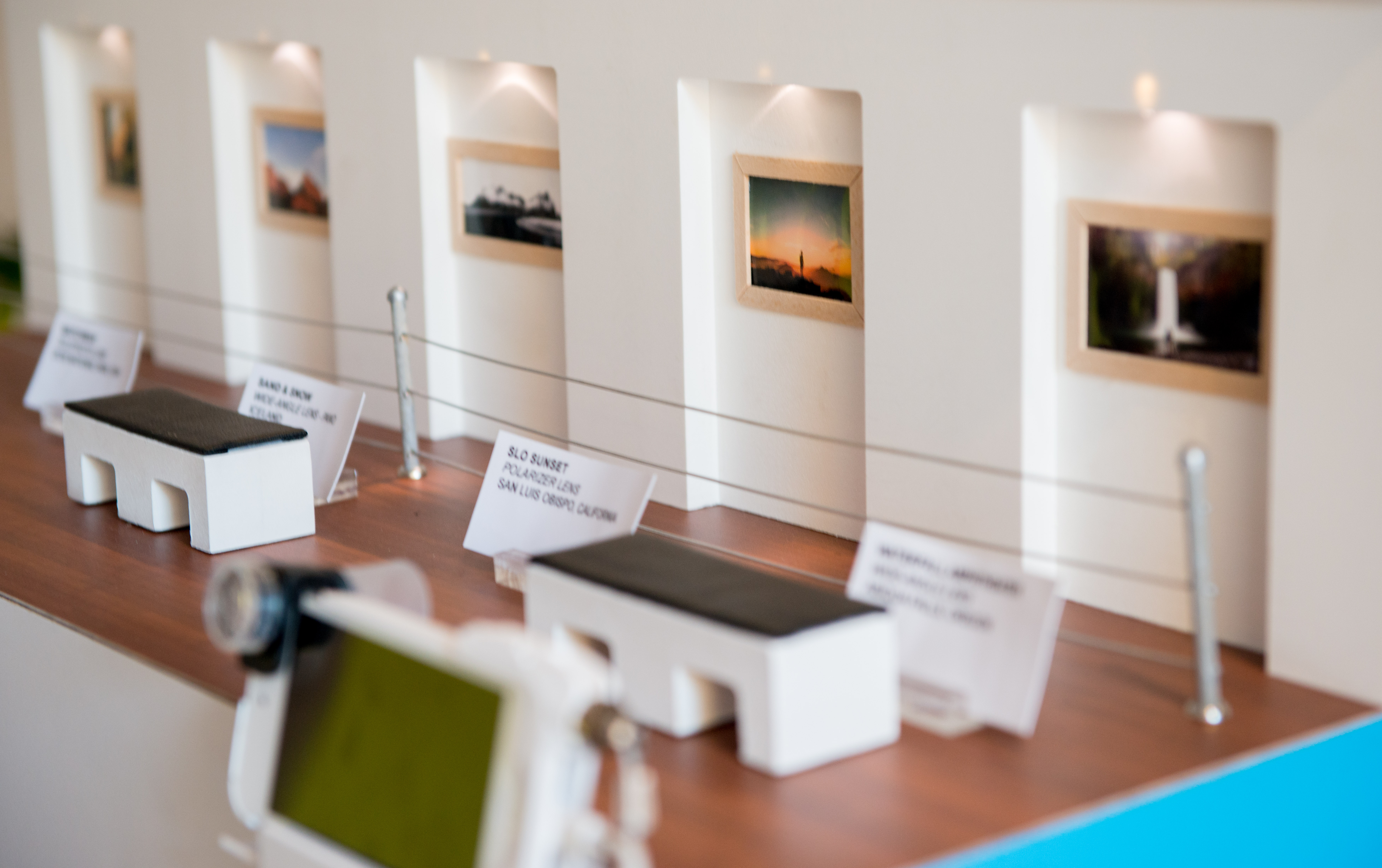 Bringing famed seascape photography by Burkard to the Van's US Open of Surfing taking place this week in Huntington Beach, the Olloclip team took some inspiration from their favorite film and a little ingenuity to create what is undoubtedly the most clever curation of artwork we've ever seen.
"We're all fans of Derek Zoolander's School for Kids Who Can't Read Good and Want to Do Other Stuff Good Too, so our inspiration led to the development of 'A Gallery for Ants' to showcase not only great photos, but everything in miniature" Olloclip's director of marketing Tim DeBrincat said. "The Macro 3-in-1 photo lens is perfect to get up close and personal and see every detail of Chris' beautiful photography. And the mini gallery is a great way to experience our range of mobile photo products in an entertaining and memorable environment."
Olloclip, for those who don't know, is a brand of iPhone compatible external lenses that transform a simple camera phone into a photographer's dream. Interchangeable simply by the flip of the lens, the Olloclip allows the average Instagrammer or photographer-on-the-go the ease of four interchangeable lenses all in the palm of your hand.
"We keep improving our technology for ease of use" Olloclip founder Patrick O'Neill said in an exclusive interview with Archaic Press. "In fact, right in here you've got a circular polarizer, a telephoto lens, a fish-eye lens, a wide-angle lens and two macros, in something that weighs just over an ounce."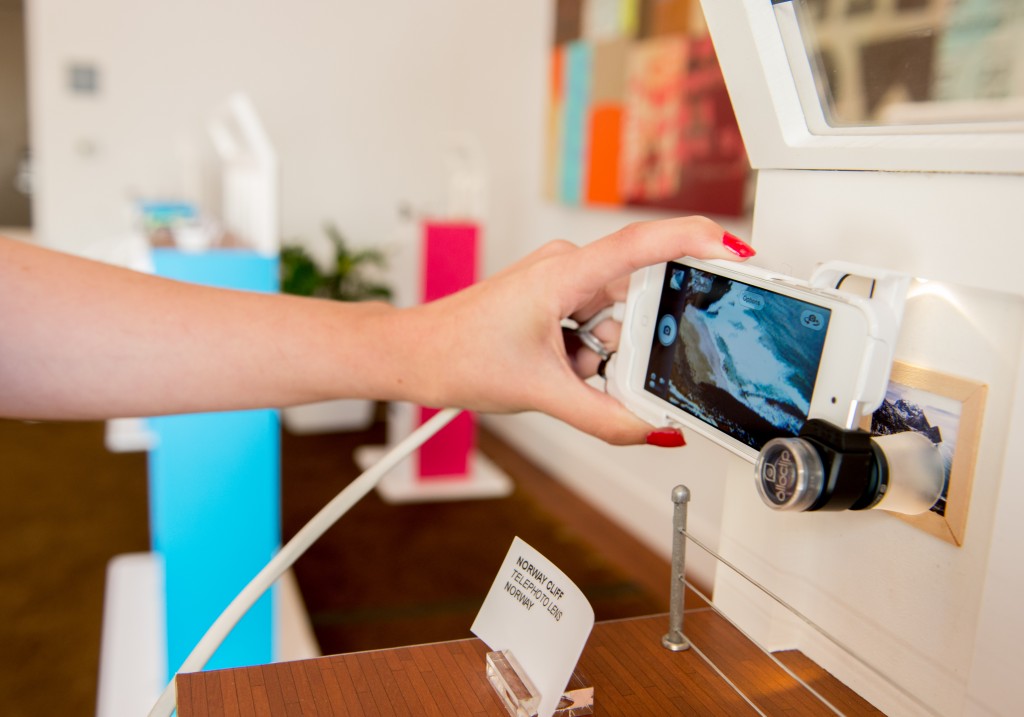 The technology, which came out of O'Neill's lifetime passion for photography and talent with technology, was a crowd-funded venture begun only three years ago through KickStarter. Making a splash with initial investors, more than quadrupling the intended goal, the Olloclip was funded by 1,300 backers for a total of $68,201. And once the first generation photographers shared what they could do with their newly-found lenses, the Olloclip phenomenon quickly took hold of social media sites.
Finding a niché with photographers and the general public alike, the Olloclip has seen that their influence has traversed borders and preconceived notions of what an iPhone camera could do. Hoping to open the eyes of fans at the US Open of Surf held this week in the hub of Southern California, Olloclip has decided to take macro sized photos, captured by Burkard on his own Olloclips, and shrink them down to micro size for a truly immersive experience of art and technology.
"Because we do so many macro lenses, and they are a very fun part of what we do, we thought why not take these great photos and make them really small so that you could use the macro lenses to view them" O'Neill said.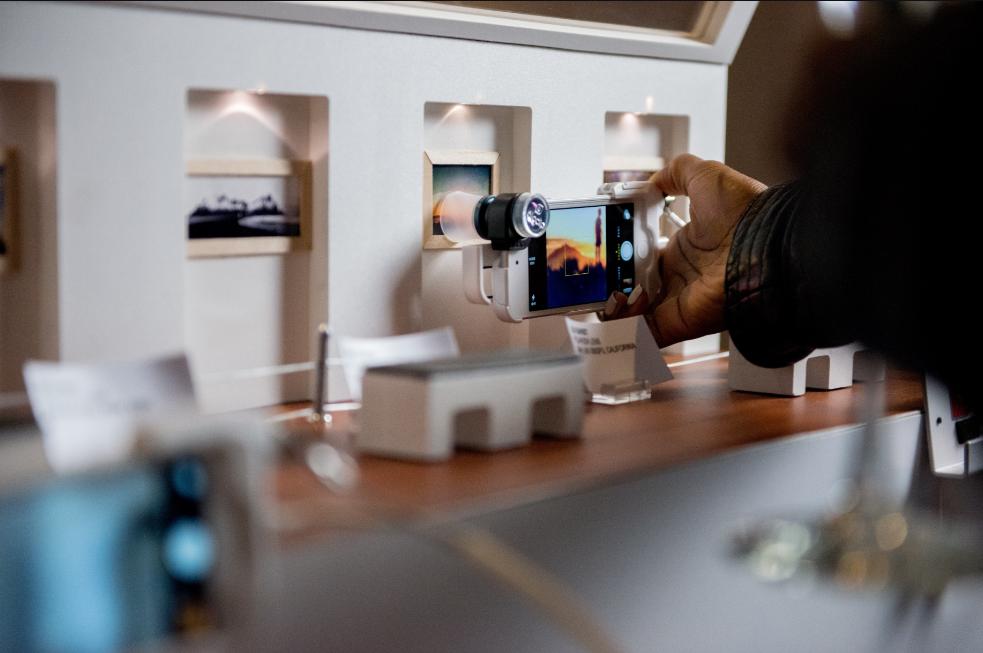 Pairing the creative concept with visually artistic photographs, composed and captured around the world on Burkard's surfing adventures, the "Gallery for Ants" creates a gleaming homage to the artistry of photography and the ingenuity of our generation, in a small but visually stunning package.
Following Burkard's many years abroad, the gallery is curated with pieces that he shot all on his handy Olloclip, while out in the elements. Capturing an atypical view of the surf and the sand, Burkard's seascapes are stills that appear to be in constant flux of dynamic action.
"People love the beach; they revel in it. So for me, being able to shoot seascapes where these surfers are, really spoke to me. And I really tried to cut my teeth on creating that signature style and look" Burkard said. "Allowing me to create work for the sake of creating work, the Olloclip paired with the iPhone really celebrates the roots of the true art of photography."
Though the activities this week may be larger than life, you'll definitely want to make your way off the beach and into the Shorebreak Hotel for the mind-blowing gallery that you could literally fit in your pocket. Only open to the public for a limited time, Friday Aug. 1st to Sunday Aug. 3rd, you'll want to catch it before the surf washes it away!
For more information on Olloclips or Chris Burkard's Photography, click on the links below:
www.olloclip.com                                     www.burkardphoto.com