By Ryan Wallace
In a mechanistic world, filled with evolving subcultures and ever-changing generations, it would appear that there only two constants that we have in our lives—the nature that surrounds us and the even-ticking tempo of time. Both beautiful because of the intricate roles they play for humanity and the mysterious aspects of their unknowns, time and nature supersede the life of an individual. Viewed as separate components, the two are constant reminders of the fleeting moments of life, but in tandem they work to illustrate a broader meaning to existence. Combining the two concepts together with an artistic vision in mind, Colombian accessories brand Mistura pays homage to history's two largest icons.
"We named our watches 'Mistura' because it means fusion in Portuguese and our timepieces are a fusion of design—Nature and Art" Mistura CEO & Designer, Daniel Schemel said. "We celebrate our philosophy with our own name because we believe that nature can bring us unique designs through art."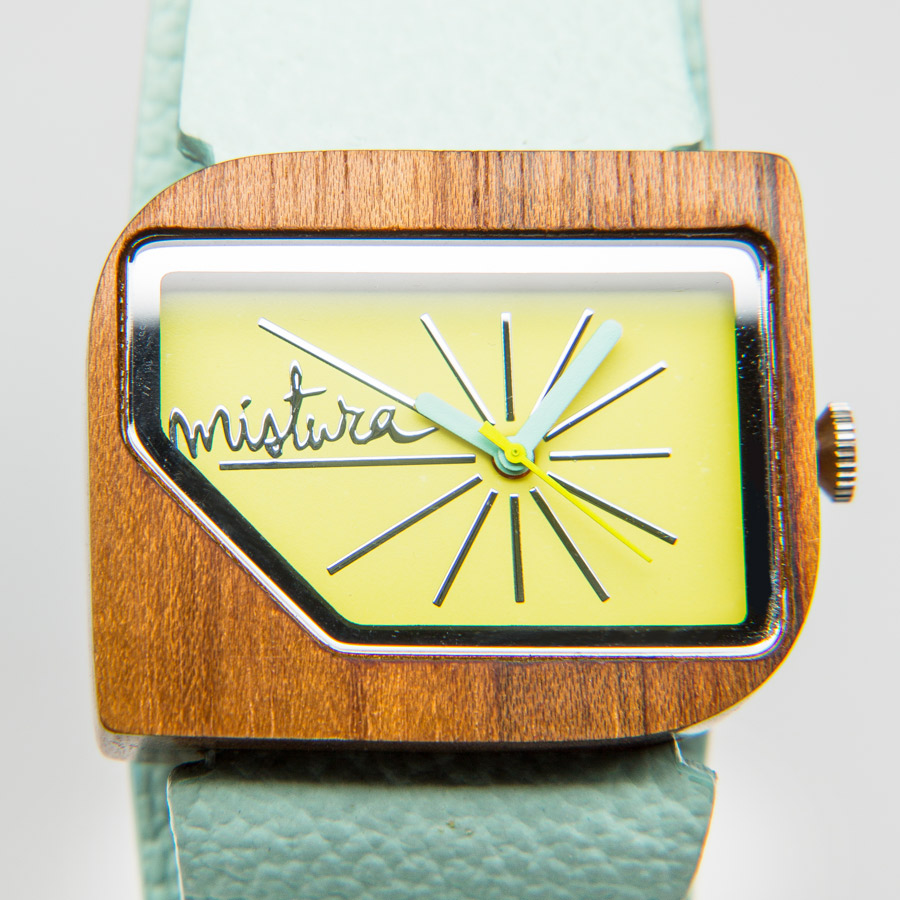 Established in 2005 as a collaborative project amongst three best friends, Mistura's origins were founded on a unique and original fusion of interests. Combining three distinct areas of expertise—architectural design (Daniel Schemel), fashion (Juan Felipe Barreneche) and engineering (Felipe Lopez)—the foundations of Mistura were created with a deep understanding of the timepiece design they intended on altering.
"We wanted to create something unique and original—with a fusion of our abilities" Schemel said. "We strongly believe that the market has had its share of machine-made products, and [now] it is turning towards an appreciation of hand-crafted, unique pieces like Mistura Timepieces. We are going back to the basics."
As Colombian nationals, the team decided to take the concept of Mistura and ingrain a bit of their own roots into the final products. But what started as a metaphoric gesture of paying homage, turned to a literal use of land. Sourcing materials from their home in Colombia, the brand has expressed their commitment to Earth in their products and their construction. Blending high-quality materials with innovative modern design & technology, Mistura strikes a unique balance when fusing different elements into their durable timepieces.
"Our commitment to Earth is to minimize the use of chemicals and to increase the use of materials that are biodegradable, sustainable and still luxurious" Schemel said. "We look for businesses that have certified their products, making sure that we only are using sustainable woods, leathers and materials in general. But to us commitment to Earth is not only planting trees, it is also to support the arts, medical foundations, children in need, and to create jobs for people in need."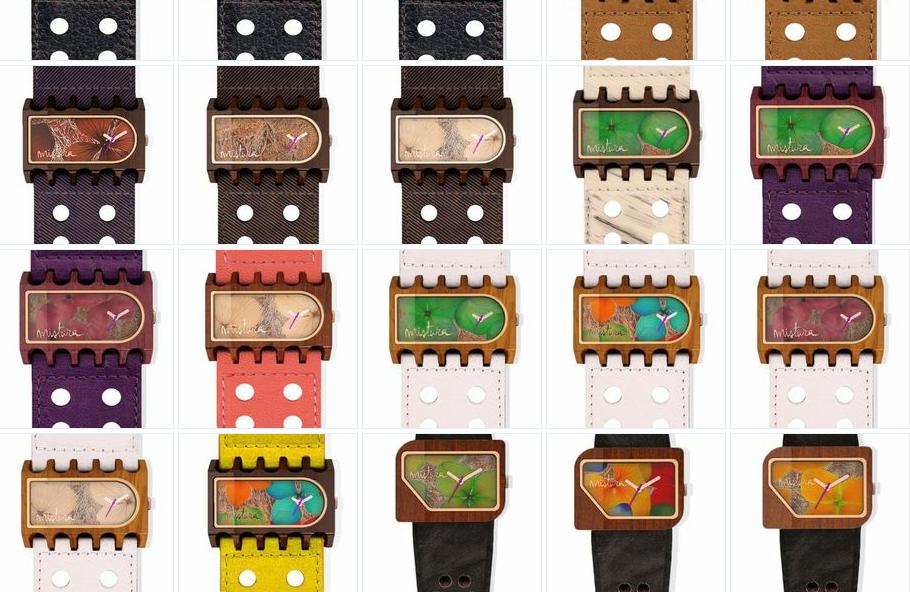 Taking an artisanal approach to the construction of each piece, Mistura's process is much like the creation of artwork. Averaging over 85 hours in the creation of each watch, the pieces not only reflect the artisanship of the designers, but also the attention to detail placed into every hand-made piece.
"[Our artisanal approach] gives an intricate value to our timepieces. Aside from the attractive visual designs, there is also a story behind creating the watches ourselves that gives the customer an attachment to it" Schemel said. "There is a link created between the piece, the customer and the designer."
Utilizing the highest quality materials, and integrating a uniquely artistic view of accessories, Mistura appeals to a wide audience. From ecologists to fashionistas, and from art enthusiasts to socialites, the diversity of the Mistura collections plays to the vast passions of individuals. And with a keen awareness of the need for environmental sustainability, the brand is making great strides in moving towards Earth-friendly and vegan-friendly alternatives.
"Last year we launched our exclusive cork collection, in which any of our watches can be made with a cork strap" Schemel said. "Cork also has become an important part of our collection since it fits our sustainability demands. Cork nowadays is made without even cutting the tree—the bark is shaved so that the cork can grow again."
Also imbuing a bit of themselves into each finished product, Mistura timepieces are a labor of love and a reflection of the nature of Colombia. Bold, vibrant and enticingly eye-catching, Mistura watches alter expectations of the traditional timepiece and encapsulate an artful expression of time & nature.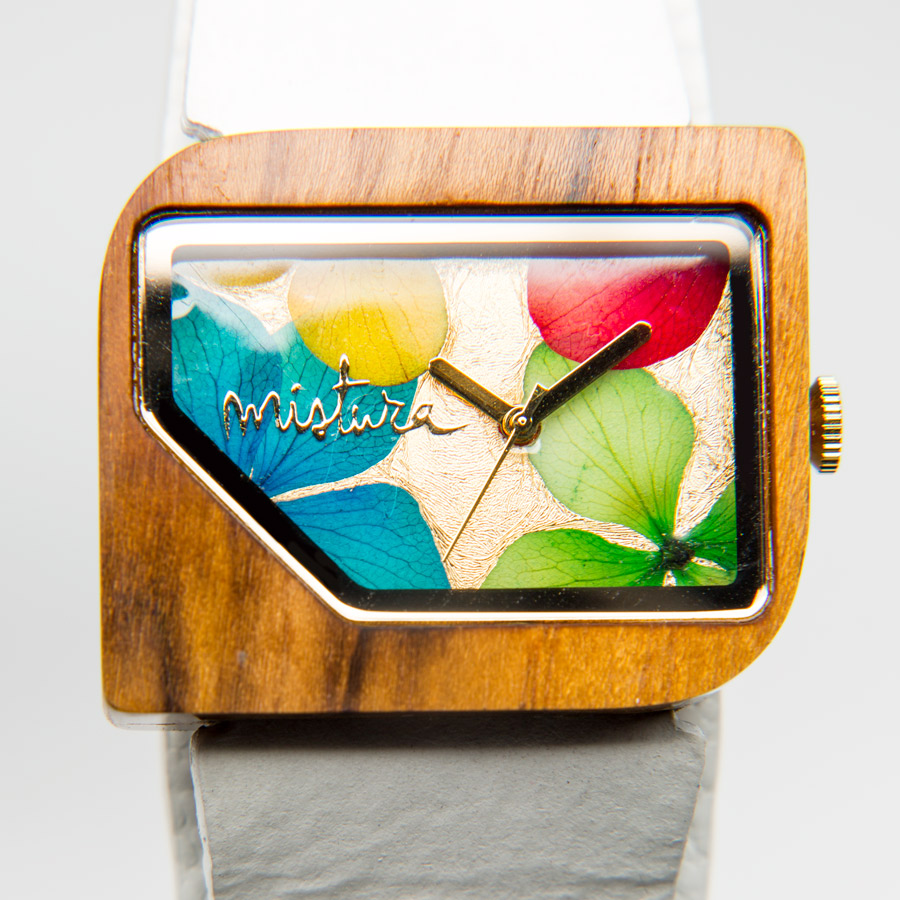 Some of the most stunning accessories currently in the marketplace, nothing quite compares to Mistura's Santa Elena collection in terms of aesthetic and natural appeal. Kicking the floral trend up a notch, this collection displays Colombian beauty at its finest.
"This collection uses Colombian flowers and is dedicated to a beautiful region named Santa Elena, close to our home in Medellin, Colombia" Schemel said. "Each year thousands of flower growers and farmers bring a parade to the city, carrying the most beautiful works of art made with flowers on their backs. We want to show our flowers, and our culture, around the world."
Playing various roles, ranging from masculine to feminine, Mistura embodies timelessness in nature and the beauty of the organic. The unique aspects of Mistura's timepieces and their artistic appearance make them the epitomic statement piece. Whether you're pairing these watches with a casual day outfit or an upscale ensemble for a  night-on-the-town, you are bound to draw attention. And as wearable art, these sublime fashion accessories will undoubtedly stand the tests of time.